Explore Little Ocmulgee State Park
Explore Little Ocmulgee State Park
Little Ocmulgee State Park is a tranquil 1,360-acre Georgia State Park two miles north of McRae-Helena on the Little Ocmulgee River. The park's origins date to the 1930s, when it was first constructed by the Civilian Conservation Corps, which created the lake around the natural diversion of the Little Ocmulgee River. This 256-acre lake features a white sandy beach, fishing docks and a boat ramp.
One of the distinctive features of the park is the soil, which, like the Ocmulgee River and the Little Ocmulgee River, is a fine white sand, providing lake users with a delightful beach. The park also features the 2.6-mile Oak Ridge Trail, where hikers can admire a stand of turkey oaks as well as swamps laden with cypress and oaks. Two of Georgia's rarest species, the harmless Indigo snake and the gopher tortoise may also be seen from the trail. Other park features include seven picnic shelters, a group shelter, and an amphitheater.
Park Hours: 7 a.m. – 10 p.m.

$5 Park Fee – Annual Passes Available

Avoid the crowds and find more opportunities open for activities by scheduling a mid-week visit.
Accommodations & Facilities
54 Campsites
7 Picnic Shelters
2 Group Shelters
Group Reservations & Corporate Retreats
Family Reunions & Destination Weddings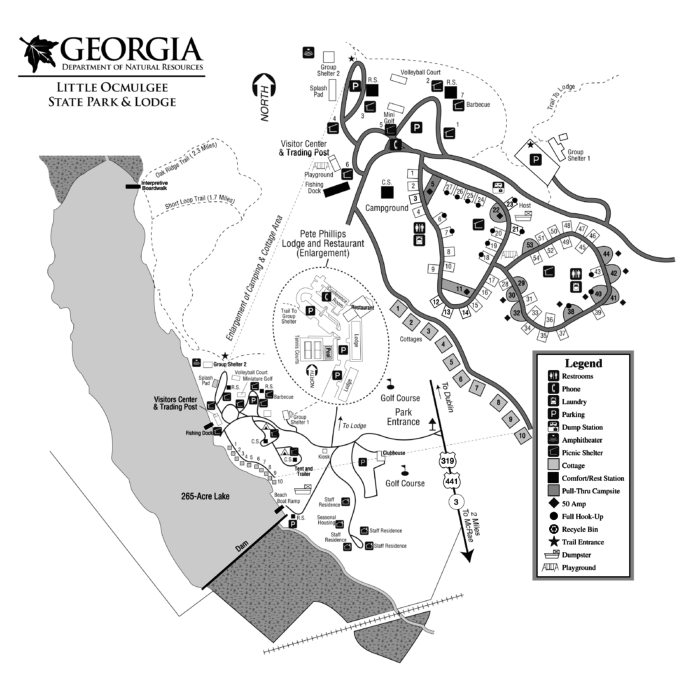 ---
---