Our Other Posts
South Georgia's Family Resort
South Georgia's Family Resort
It's time for summer vacation to begin! Yearning for a golf weekend getaway that the whole family can enjoy together? My family recently enjoyed our annual Memorial Day weekend golf reunion at Little Ocmulgee State Park & Lodge. The biggest selling point for us each year is all the activities there are to do outside of the golf course – especially for the young ones in the family.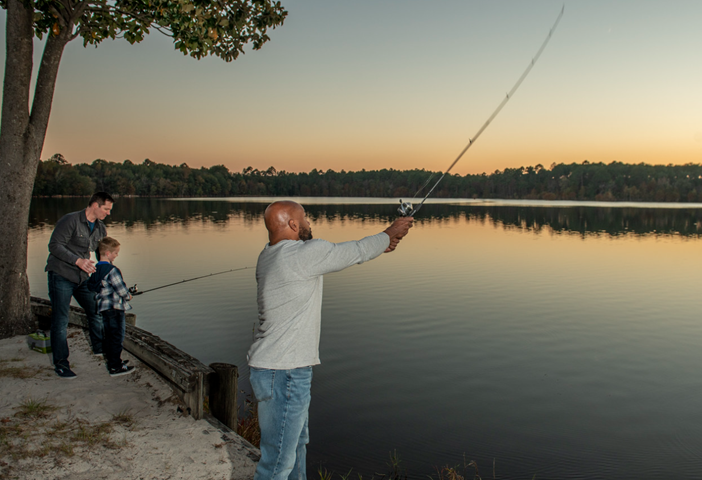 Little Ocmulgee State Park is definitely a unique place in South Georgia, where the topography ranges from sand hills to lake wetlands. Locals started to appreciate this region more in the early 40's, so they bought these lands, with the help of the Civilian Conservation Corps and the National Park Service, to increase environmental protection for future generations to enjoy.
Look for wildlife: Wood ducks and alligators, gopher tortoises, deer, and armadillos are some of the amazing animals you may see.
The accessible Splash Pad opened this weekend! From Memorial Day to Labor Day kids can dance in the water sprays on a hard foam surface. The Splash Pad is free to the public from Thursday to Sunday during the summer. We watched the kids laugh and experiment with water spray movements while making some new friends they would play with again at the park.
As guests of the lodge, we also timed our visit with the opening of the pool for summer. After a game of golf, is there any better way to cool off than with a one-off cannonball contest with your son?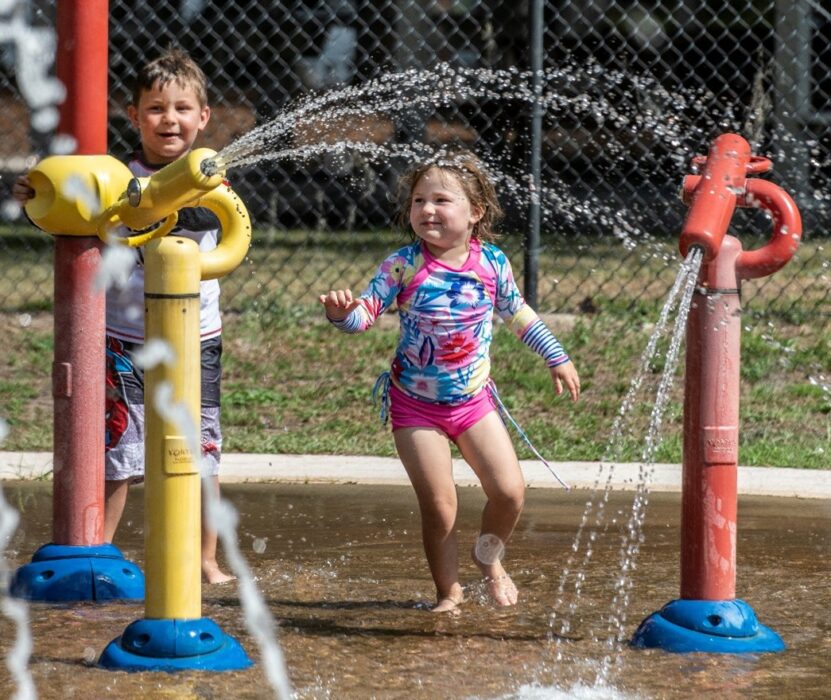 Splash Pad:
Open now through Labor Day: Thursday, Friday, Saturday, and Sunday from 10 am to 4 pm
No lifeguard on duty. Splash at your own risk.
Lodge Pool & Thaxton Beach
Swimming pool is open to registered overnight guests.
You can also spread towels on the white sands of Thaxton Beach and swim in the lake.
Another great summertime activity for the whole family is to order lunch to-go from Mulligan's Grille or The Fairway Restaurant. We sat at the picnic shelters by Ocmulgee Lake and Thaxton Beach.
Free miniature golf is beside the pavilions and is designed as a miniature replica of the park's Wallace Adams Golf Course. Don't forget to bring your fishing gear as the lake is full of largemouth bass, bluegill, white crappie, and redear sunfish.
We couldn't let the weekend end without a visit to the full-service pro shop at Little Ocmulgee's Wallace Adams Golf Course. Inside the pro shop is a wide selection of golf accessories, club rentals, along with a snack and beverage bar. Our wives wanted new golf dresses and we bought golf shirts with the course logo to add to our collections.
Little Ocmulgee's Wallace Adams Golf Course is one of South Georgia's finest 18-hole golf courses. Here in the white sandhills region, the course is surrounded by laurel oaks and turkey oaks, willows, magnolias, and loblolly pines – it's like being in a Southern novel when you play this course.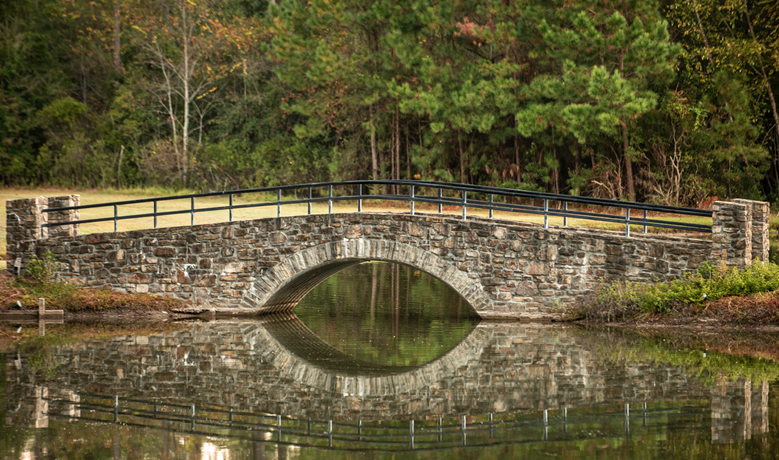 The Wallace Adams Golf Course features Bermuda fairways and TifEagle Bermuda greens that you'd expect from a premium, big city golf resort. This is good stuff.
Walking is permitted year-round but because of the midday heat, we agreed two golf carts with some shade would be helpful. Stock up on water and drinks from the pro shop, even ice-cold beers and ice cream.
If your kids don't often play golf, they can learn techniques and practice at the driving range, chipping area and practice green to encourage comfort and consistency.
We love this course. It's a frame of mind: you are free from distractions. You are playing golf on a fair course without sweating over how to get out of a sand trap.
Some of the lodge's rooms are right off the golf course with views of players passing through.
For Tee Times, call the Pro Shop: 229-868-6651
The course is open daily (except Dec. 25)
Hours: 8 am to Dusk
Holes: 18
Yards: 6,625
We thanked all the staff for helping us navigate our weekend by recommending things to do both in the park and in town. They know and love their area and are happy to share locals' knowledge and history.
May your summer sizzle and sparkle as you make a splash in Ocmulgee Lake, in the pool and splash pad, and as ice drops into your carbonated and mixed drinks at the lodge's Mulligan's Grille.
Plan your stay: Just south of McRae-Helena, Little Ocmulgee State Park & Lodge offers 60 Lodge guest rooms, 10 cottages, and 54 sites for tent and R/V camping.
By Craig V.